Specialists in caring for and rebuilding your smile.
Each smile is a work of art that bears the artist's signature.
Oral and Aesthetic Rehabilitation
We focus on taking the aesthetics of your face to another level.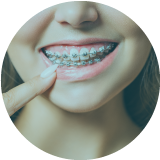 Orthodontics
State-of-the-art treatments to improve dental position.
Dental implants
It is already a reality to be able to recover the teeth that have been lost.
Oral Surgeries
The best comfort and reliability in one place.
Facial Harmony
We care about bringing the aesthetics and health of your face to its highest quality.
Discover our treatments and give a new life to your smile with the help of our specialists.
Guaranteed dental treatments
We take care of satisfying your dental and aesthetic needs, thus meeting your expectations for functional dental treatment.
Different payment methods
Permanent innovation in technology
Human and professional quality
Comprehensive care with technical-scientific quality
Save and travel with our global smile program.
We guide you through the process of getting affordable dental procedures done by the best professionals in the industry while spending a fabulous time in Colombia.
Our services range from root canals, bridge, crowns and veneers to invisible orthodontics, bleaching, cleaning and of course! smile design.
We also provide housing services so you can stay in a comfortable location just a few steps away from our dental clinic and close to some of the most beautiful places in the city.
Our team of professionals and specialists will always be ready to provide you with the best service.
Nicolas Matiz
Oral Rehabilitation Specialist
Working with passion to guarantee your best smile.
Alejandra Rojas
Oral Rehabilitation Specialist
In charge of satisfying your dental and aesthetic needs.
Óscar Tocarruncho
Periodontics Specialist
Caring for your smile safely and with technology is our greatest purpose.
We have been providing the best services for more than 11 years with permanent innovation in technology, supplies and constant updating of knowledge based on scientific evidence.
Satisfaction in the result
Learn about the opinions of our patients and how they felt during their treatments.
My smile design was spectacular, I had a painless and fast treatment.
They are the best, thanks to Dr. Matiz and Dr. Alejandra I was able to smile with confidence again.
The best experience in my orthodontic treatment, it was super easy and fast.